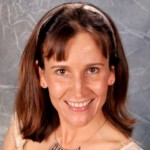 Elena Iam is the author of a new interdisciplinary concept System Outlook and founder of a System Outlook platform, which mission is reconciliation of conflicting views through understanding the basic principles that underlie our perception and reality.
Recently Elena has published her second book "Yes! Science and Religion Can coexist!" As a speaker, Elena enjoys sharing the profound insights that help her audience discover uncontroversial answers to the 'Big questions' related to Truth and God.
Elena Iam graduated from Russian Humanitarian State University (RGGU) as a specialist in the theory of system informational technology. The fascinating idea that we lived in a system-information reality triggered Elena to apply system principles to her passion: philosophy, psychology, any kind of spirituality and religion.
Elena received also degree in linguistics; and later in California, she dedicated plenty of her time studying human perception and fields related to hypnotherapy and conflict-resolution.
While raising children, self-education and research have become Elena's life-style. She constantly read books and listened to the best university audio-courses on various subjects, including psychology, philosophy, religions, etc.
The years of research convinced Elena that system-information disciplines as a neutral interdisciplinary field, in contrary to traditional physical or natural sciences, have the unique logical capacity to reconcile science and religion. It becomes possible as only system disciplines deal with such ultimate notions like logic, systems, and information, which are equally applicable to outer reality, inner perception, as well as any kind of scientific or religious knowledge.
Decades later, Elena's quest for the Truth was rewarded with the concept of System Outlook, the system-information alternative to quantum theory of everything.
For Media, Speaking or business-related requests please click this link: